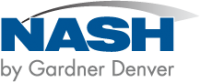 NEW SYSTEMS
As creator of the liquid ring vacuum pump with over 100 years of experience, Gardner Denver Nash is the world leader in liquid ring vacuum pump and compressor systems.
Gardner Denver Nash is unmatched in technical expertise and capability in offering hybrid multi-stage vacuum systems, steam jet ejectors, oil-sealed and solvent-sealed systems, as well as water recovery systems.
SERVICE
In addition to being the world leader in new systems, Gardner Denver Nash also has the most extensive and highest quality service centers in the world.  Offering the same warranty as with new pumps, customers can feel confident that they are getting the highest quality repair service in the industry.  Gardner Denver Nash also guarantees the performance of the pumps they repair to be at least 95% of new pump performance.
We also utilize our large inventory of pumps to offer swap-outs with our exchange program.
PARTS
Along with servicing your vacuum pumps and compressors, we are here to assist you with all your Gardner Denver Parts needs.  We can help identify parts needed as well as provide operation and maintenance manuals, performance curves, and other technical information.
TESTING
Fiberscope inspections are one of the best means of inspecting pumps without disassembling the pump or disturbing the piping.  Fiberscoping gives an accurate visual inspection of the critical tolerances inside the vacuum pump.  Many of our customers have us perform annual inspections during planned outages.  We provide detailed reports with pictures of pumps that we inspect.