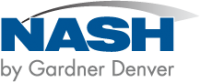 NEW SYSTEMS
As the creator of the Liquid Ring Vacuum Pump and with over 100 years of experience, Gardner Denver Nash is the world leader in LIQUID RING VACUUM PUMP & COMPRESSOR SYSTEMS. For more than a century, Nash has been trusted by customers for delivering quality, reliability, value, and performance. Our commitment to continued innovation allows Gardner Denver Nash as the liquid ring originator and leading manufacturer to provide our customers with the performance and reliability required to operate safely and efficiently.
Gardner Denver Nash is unmatched in technical expertise and capability in offering HYBRID MULTI-STAGE VACUUM SYSTEMS, STEAM JET EJECTORS, OIL-SEALED AND SOLVENT-SEALED SYSTEMS, as well as WATER RECOVERY SYSTEMS.
More recently, Nash has also begun offering Nash DRY-PRO DRY SCREW VACUUM PUMPS & SYSTEMS.
LIQUID RING VACUUM PUMP & COMPRESSOR SYSTEMS
NASH liquid ring pumps, including GARO and SIEMENS are the reliable and durable solution for challenging process applications. Our liquid ring vacuum pump design was the first-of-its-kind when it was launched in 1905, and Nash has been the industry leader ever since.
The working principle of a liquid ring pump is based on a round pump body and an eccentric rotor: As the rotor spins, the seal liquid inside the pump forms a rotating liquid ring on the inner surface of the body, forming the "liquid ring."
Nash offers a wide range of pumps that can meet a comprehensive range of single and two-stage liquid ring vacuum pumps and compressors, as well as hybrid systems. Through an ongoing commitment to research and product development, we continue to introduce quality compressors and product upgrades that excel under the most demanding conditions. Industries include general industrial, chemical & petrochemical, oil & gas, pulp & paper, and power.
With a global network of aftermarket sales, service and support, we can provide solutions to even the most complex challenges.
DRY-PRO DRY SCREW VACUUM PUMPS & SYSTEMS
The Nash DRY-PRO is a simple, yet sophisticated, reliable & highly efficient dry vacuum pump. Operation requires no lubrication, a feature that translates into advantages such as no process contamination & no pollution caused by pump operation. Because of its oil-free, non-contacting screw design, these pumps can handle corrosives, organics, inorganics, and solvents. DRY-PRO offers benefits such as wide operating range, reliable performance, low life cycle costs, a wide range of applications and industries. Nash can provide both pre-engineered and engineered-to-order solutions.
SERVICE
In addition to being the world leader in new systems, Gardner Denver Nash has the most extensive and highest quality service centers in the world. Nash offers ISO Certified Service Centers that are located in key industrial areas. Equipped with OEM parts, factory trained technicians and specialty tools, we provide remanufacturing services and rapid repairs backed by our manufacturer's warranty. Offering the same warranty as with new pumps, customers can feel confident that they are getting the highest quality repair service in the industry. Gardner Denver Nash also guarantees the performance of the pumps they repair to be at least 95% of new pump performance. Additionally, we utilize our large inventory of pumps to offer swap-outs with our exchange program.
PARTS
Along with servicing your vacuum pumps and compressors, we are here to assist you with all of your Gardner Denver Parts needs. We can help identify parts needed as well as provide operation and maintenance manuals.
TESTING
Fiberscope inspections are one of the best means of inspecting pumps without disassembling the pump or disturbing the piping. They can give an accurate visual inspection of the critical tolerances and condition of the inside of the vacuum pump. Many of our customers have us perform annual inspections during planned outages. We provide detailed reports with pictures of pumps that we inspect.