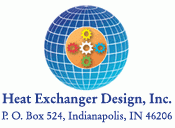 Founded in 1984, Heat Exchanger Design, Inc., has grown from a 1-2 person organization to a sizable manufacturing facility employing 50+ people. Additionally, HED is proud to offer the services of some of the industry's top engineers, having assembled a design team that is both innovative and flexible when it comes to the customer's needs.
Heat Exchanger Design, Inc., services a worldwide customer base for pressure vessels and heat exchangers.
HED, Inc., is an ASME authorized manufacturer.  We design and fabricate heat exchangers and pressure vessels according to TEMA, API, ASME Section I and VIII, Division I, and other industry recognized standards, as well as offering full compliance with customer specification.  We also provide the National Board of Boiler and Pressure Vessels Inspectors Registration for any vessels manufactured according to ASME code. For customers based in Canada, we have had extensive experience in obtaining CRNs.
STANDARD PRODUCTS
SHELL & TUBE EXCHANGERS
HAIRPIN EXCHANGERS
DOUBLE PIPE EXCHANGERS
CHILLERS CONDENSERS
REBOILERS
ECONOMIZERS
TANK COIL HEATERS
WATER HEATERS
STEAM CONDENSERS
TANK SUCTION HEATERS
FINNED TUBES SECTIONS
BAYONET HEATERS
FUEL OIL HEATERS
INDIRECT FIRED HEATERS
AFTER COOLERS
INTER COOLERS
SEPARATORS
PRESSURE VESSELS
REPLACEMENT TUBE BUNDLES
REPAIR AND RETUBING
HOT WATER STORAGE TANKS
WASTE HEAT BOILERS
AIR COOLERS